---
The author comments on his new book The Pope of Good Promise
This portrait of Bergoglio and Francis's world-past and present- tells the story of a much more complex man than some early biographies have suggested. My subject is no picture book saint but a very human priest, wracked by doubt, who struggles to be a true witness of his faith in challenging circumstances. In circumstances he neither sought nor foresaw he found himself , he was handed the highest office at a time of institutional crisis, not just for the Church but long established institutions worldwide, from banks to party political leaders. The book charts Bergoglio's formation as a priest and bishop against the dramatic backdrop of Argentina's turbulent politics and the challenging principles he adopted as a member of the Jesuit order. It examines the extent to which his social conscience was influenced by the legacy of the country's controversial populist President General Peron and his wife Evita and questions his moral standing during the Argentina military junta's 'Dirty War' against political dissidents, when thousands disappeared before being tortured and killed and when he stood accused of not having done enough on behalf of the victims, including fellow Jesuit priests.
Bergoglio's discreet refusal to condemn human rights violations publicly, instead to intercede with the authorities to try and secure the release of political detainees saved the lives of some individuals while avoiding his own martyrdom. His survival paved the way for his transformation, following the end of military rule, into a strong advocate of social justice , earning the respect of his countrymen on account of his humility and denunciation of corruption, not least at government level. In challenging the ethics of successive presidents, bankers, corporations, and fellow church leaders, Bergoglio sent a signal to endemically failing systems around the world that the age we live in demands spiritual and political renewal.
This book benefits from detailed research and unique access to key witnesses , bringing the true story of Bergoglio and Pope Francis into a sharper and more original perspective than the early books published in the aftermath of the papal election.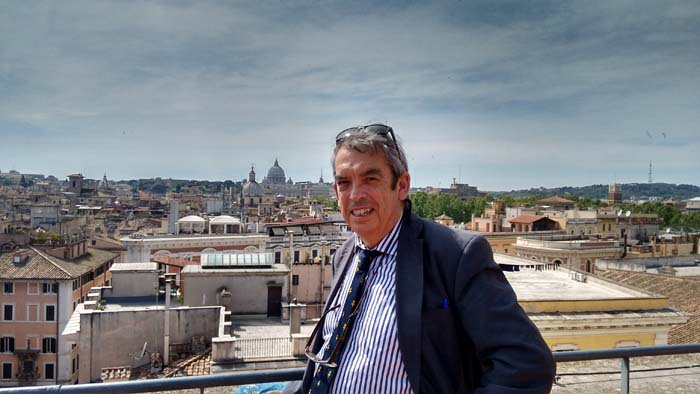 This book is a personal journey, as well as personal portrait. It draws on my own Catholic background- a Jesuit education open to diverse expressions and practice of faith from mysticism to popular religion, from ritual to social and political action- and my subsequent experience as a journalist in Latin America, based in Buenos Aires, and as an author investigating the life of Bergoglio, including the first two years of the Francis papacy, in Rome and in other territories with a wide range of interviews with key protagonists, spanning decades and straddling continents
I have written biographies about Diego Maradona and my late father as a wartime spy, -neither easy subjects. But this project poses its own particular challenge-as one friend put it, "Jimmy, it must be quite difficult to write about God." Catholic teaching defines the Pope as "the perpetual and visible source and foundation of the unity both of the bishops and of the whole company of the faithful." (Catholic Catechism) 402 "who by reason of his office as Vicar of Christ, and as pastor of the entire Church "has full, supreme, and universal power over the whole Church, a power which he can always exercise unhindered."403. Nonetheless I see myself as an author who is a Catholic- rather than a Catholic author. Inevitably my Catholic faith has been a major influence in the writing of this book but this a work of investigation as well as a personal portrait, and aimed at a wide readership of doubters and non-believers as well as the converted.
This book fall into three parts. The first describes the start of a journey, linking the author to his subject through his own Catholic upbringing where the Jesuits had an important influence.. The second partexamines the formation of Jorge Bergoglio within the context of Argentine politics and society, tracing his evolution from fearful Jesuit priest to outspoken Bishop. The third part looks at the first two years of the Francis papacy, continuing the author's journey among the broader community of believers and doubters as a way of identifying the main issues that confront the Pope. It looks at how Francis began to move beyond gesture to action and his impact on the Vatican and the world beyond. It examines the extent to which Pope Francis has been true to his Jesuit formation, rejecting the ecclesiastical careerism, bureaucracy, and corruption that St Ignatius so adamantly opposed in his own lifetime, while endorsing his call for a world-embracing spirituality.